Run the popular Irving Marathon USATF Certified 5K course through scenic Las Colinas on December 7th.
- RACE SWAG includes: Long sleeve hoodie pullover (see below), finisher medal, drawstring sportpack, and much more!
- AFTER PARTY @ Texas Lottery Plaza conveniently located near the finish line
- Free beer for runners 21 and up
- Pancakes at the finish line
- Live DJ and music
- Free race photography sponsored by the Irving Marathon
- Holiday themed photo backdrops to show off your finisher's medal and swag
- Aid stations along the course and race recovery at the finish line
- Easy parking conveniently close to the Start/Finish Line
- On site expo
- Chip timed race
- Easily track event info through the ACTIVE On-Site Mobile App
Tap above to watch the Irving Frost 5K sneak peek video!
All registered participants will receive the Sport-Tek ® technology hooded pullover. You will love the look and especially the quality fabric.
Come run in style with us @ Toyota Music Factory!
Sport-Tek ® PosiCharge ®Competitor ™ Hooded Pullover
This lightweight hooded pullover locks in color and wicks moisture. It's versatile enough for year-round wear.
· 3.8-ounce, 100% polyester interlock with PosiCharge technology
· Three-panel hood
· Set-in sleeves
· Open cuffs and hem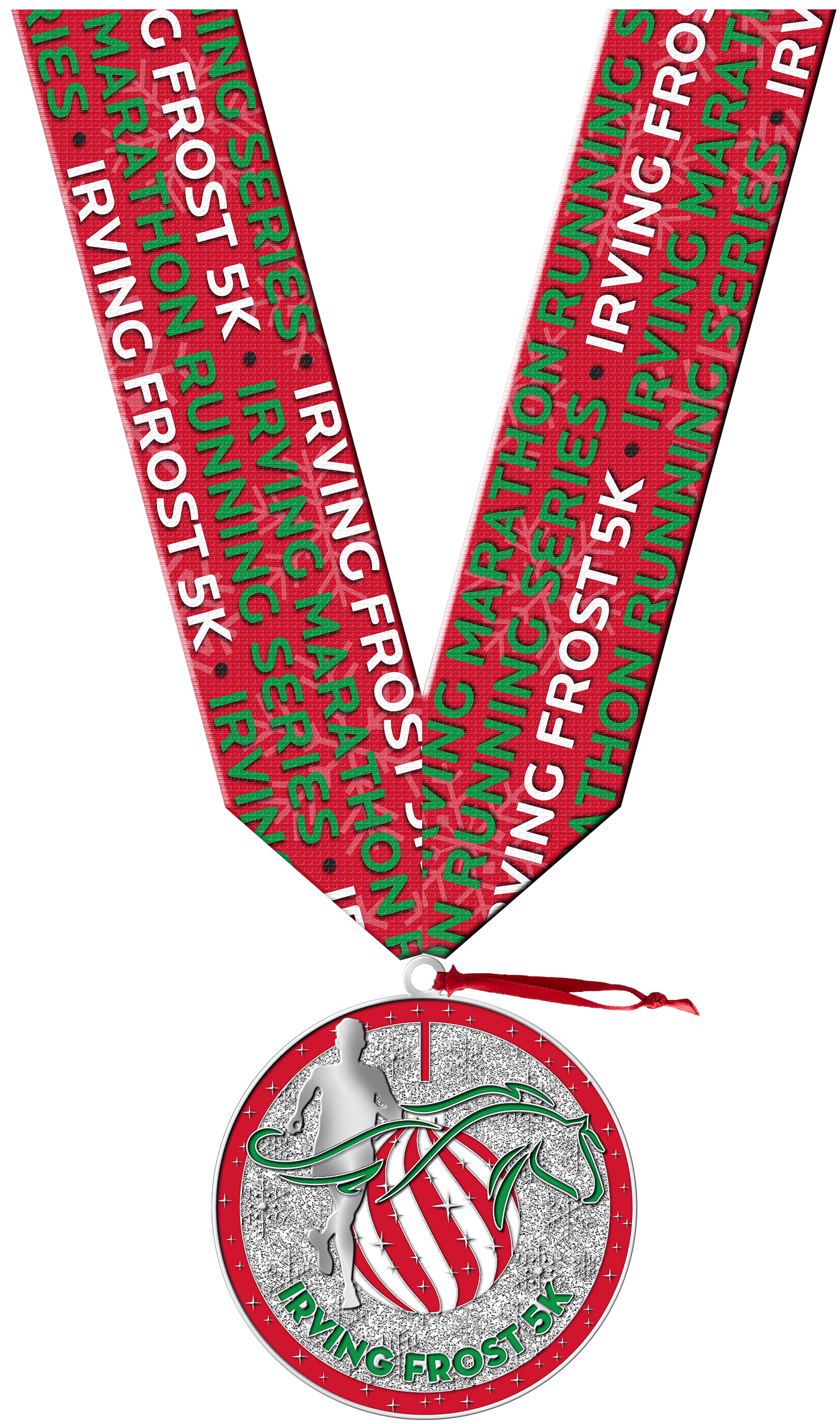 You will love the holiday themed finisher medal! It can easily be converted into a festive ornament during this holiday season!
Register today and collect the very FIRST Irving Marathon Running Series Medal!
There will be photographers on the course to take pictures of your race experience. Be sure to smile big, make a tough face, or strike a pose for the cameras as you go by. Please make sure your bib is visible as well. Photographers will also be at the finish to capture your sprint across the line and take your photos in front of our backdrops.
All race photos will be provided for free. It is crazy to pay $25 to $50 for a image download like you may have experienced before. Your memories are on us! Your photos will be made available shortly after the race along with your results on the results section. You will receive a link via email a few days after with all the pictures of the event. You can look yourself up by bib number or name.
Once you cross the finish line, stick around and enjoy the exciting atmosphere at the finish. We have the outdoor concert speakers hooked up with DJ's playing live music for you. Runners will be greeted with race recovery snacks, beer for those 21+, and pancakes as you celebrate your achievement with friends and family at Texas Lottery Plaza. Check out the vendor booths, get a photo in front of our beautiful backdrops, and give a hand to the rest of the runners coming in.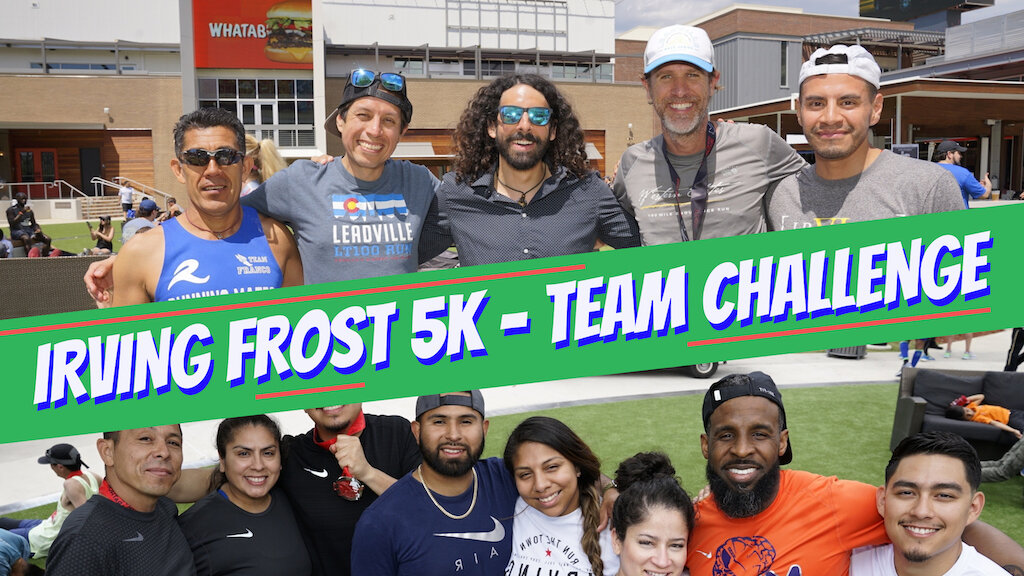 Fastest Team: Minimum of 5 team members required to enter the fastest team challenge. We will take the average fastest time per team to determine the winner. Sign up as a family or as a business. Who will take home the first Fastest Irving Frost 5K trophy?
Best Dressed: Show your holiday colors and pick a theme among your friends. The winning team will be selected by the crowd. Make new memories, how does your team dress for a holiday race?
Most Participation: Race day is much better with your friends/family around. A trophy to the team with the most members will also be awarded during the awards presentation. Get the word out and get your friends/family involved.
*A 10% off special discount is available for teams. Our registration portal has been set up for a team captain to create the team, team members can select to join the team during the registration flow. A team discount will be applied automatically.
USATF Certified Irving Frost 5K Course
The Flat course takes you out of Toyota Music Factory through the Convention Center along scenic Las Colinas Boulevard then back to Toyota Music Factory where a fun post race party at America's #1 concert venue awaits.
Become a Sponsor or Vendor
Vendor and sponsorship opportunities are available for the for the Irving Frost 5k. Over 2,000 runners plus hundreds more spectators are expected to be in attendance. For more information on vendor or sponsorship opportunities email us at info@irvingmarathon.com. Click the link below to learn more.
Is it even a post-race party if there's no food?
Nosh and Bottle is joining the Irving Marathon family. We want to get you back to 100% right after your run. The Nosh and Bottle team will be waiting with hot pancakes for you at Texas Lottery Plaza. Perfect during a FROSTY day! Be sure to check them out next time you are in the area http://www.noshandbottle.com/
Irving Frost 5K benefits Baylor Scott & White Irving Foundation. Funds raised and donated are used by the Irving ISD iRun program to fight childhood obesity. Click on the button below to learn more.
There is plenty to do in Las Colinas.
Make it a weekend getaway!!
We will have 2 packet pick up opportunities before race day at Toyota Music Factory.
Nosh and Bottle Saturday 11/30 from 1-5pm
Texas Lottery Plaza @ TMF Friday 12/6 from 1-6pm
We encourage everyone to get their race day packet prior to race day in order to avoid lines. We want to reserve day of packet pick up for those traveling from out of town. Packet pick up on race day will start at 6:30am at Texas Lottery Plaza.
Awards to be announced soon!
Participants will compete in the following Male and Female Age Groups: 15-19, 20-24, 25-29, 30-34, 35-39, 40-44, 45-49, 50-54, 55-59, 60-64, 65-69, 70-74, 75-79, 80 & Over. Awards are based on Chip Time.
Join the fun! Come hang out with us and volunteer December 7th! The current volunteer opportunities available are: Event Set Up, Packet Pick Up, Aid Station, Celebration Crew, & Race Recovery.
Click the "Click here to volunteer" button below to volunteer!!
For more info please email:
Jaclyn Livingston
Irving Marathon Volunteer Coordinator
jaclyn@irvingmarathon.com